The human gut is home to trillions of tiny organisms, collectively known as the gut microbiome. This diverse and complex ecosystem is responsible for maintaining and regulating numerous bodily functions, including digestion, immune system response, and even mental health.
Recent research has linked certain gut bacteria to depression and anxiety, suggesting that the state of our microbiome could have a significant impact on our emotional well-being.
So, what exactly is the connection between gut bacteria and mental health, and how can we optimize our gut health to improve our mood and overall quality of life? Let's take a closer look.
The Gut-Brain Axis
One of the key factors linking gut bacteria and mental health is the gut-brain axis. This complex network of neural, hormonal, and immune system signals connects the gut and brain, allowing them to communicate and regulate each other's functions.
When the gut microbiome is disrupted or imbalanced, it can have a domino effect on the rest of the body, including the brain. This can lead to inflammation, immune system dysfunction, and changes in neurotransmitter levels – all of which are associated with mood disorders such as depression and anxiety.
In fact, research has shown that people with depression are more likely to have an imbalanced gut microbiome, with lower levels of beneficial bacteria and higher levels of harmful bacteria. This suggests that improving gut health could be a key strategy for treating or preventing mood disorders.
The Role of Probiotics
One way to optimize gut health is by consuming probiotics – live microorganisms that provide health benefits when consumed in adequate amounts.
Probiotics can help restore a healthy balance of bacteria in the gut, reducing inflammation and improving immune system function. This, in turn, can have a positive impact on mental health, reducing symptoms of depression and anxiety.
Examples of probiotic-rich foods include yogurt, kefir, kimchi, sauerkraut, and kombucha. If you prefer taking probiotics in supplement form, be sure to choose a high-quality product from a reputable brand.
The Importance of Prebiotics
In addition to consuming probiotics, it's also important to nourish the beneficial bacteria in the gut with prebiotics – non-digestible fiber compounds that serve as food for the microbiome.
Prebiotic-rich foods include fruits, vegetables, whole grains, and legumes. By consuming these foods regularly, you can help promote the growth of good bacteria in the gut, reducing inflammation and improving overall gut health.
Other Strategies for Improving Gut Health
In addition to consuming probiotics and prebiotics, there are several other strategies you can use to optimize your gut health and support your mental well-being:
Reduce stress: Chronic stress can have a detrimental effect on gut health, disrupting the delicate balance of the microbiome and contributing to mood disorders. Practicing stress-reducing techniques such as meditation, yoga, and deep breathing can help reduce stress and improve gut health.
Get enough sleep: Inadequate sleep can also disrupt the gut microbiome, leading to inflammation and poor immune system function. Aim for 7-9 hours of sleep per night to support overall health and well-being.
Avoid processed foods: Processed foods high in sugar and unhealthy fats can negatively impact the gut microbiome, leading to inflammation and poor gut health. Focus on consuming whole, nutrient-dense foods to support optimal gut health and mental well-being.
Stay hydrated: Drinking plenty of water is essential for maintaining a healthy gut microbiome, as water helps flush out toxins and supports regular bowel movements. Aim for at least 8 glasses of water per day.
In Conclusion
The gut-brain axis is a complex and fascinating system that highlights the interconnectedness of bodily functions. By prioritizing our gut health through probiotic and prebiotic-rich foods, stress reduction, healthy sleep habits, and a nutrient-dense diet, we can optimize our mental wellness and improve our overall quality of life.
If you are searching about Doctors Explain How Poor Gut Bacteria Can Lead to Depression you've came to the right page. We have 7 Pictures about Doctors Explain How Poor Gut Bacteria Can Lead to Depression like New evidence links specific gut bacteria to depression, Doctors Explain How Poor Gut Bacteria Can Lead to Depression and also New evidence links specific gut bacteria to depression. Read more:
Doctors Explain How Poor Gut Bacteria Can Lead To Depression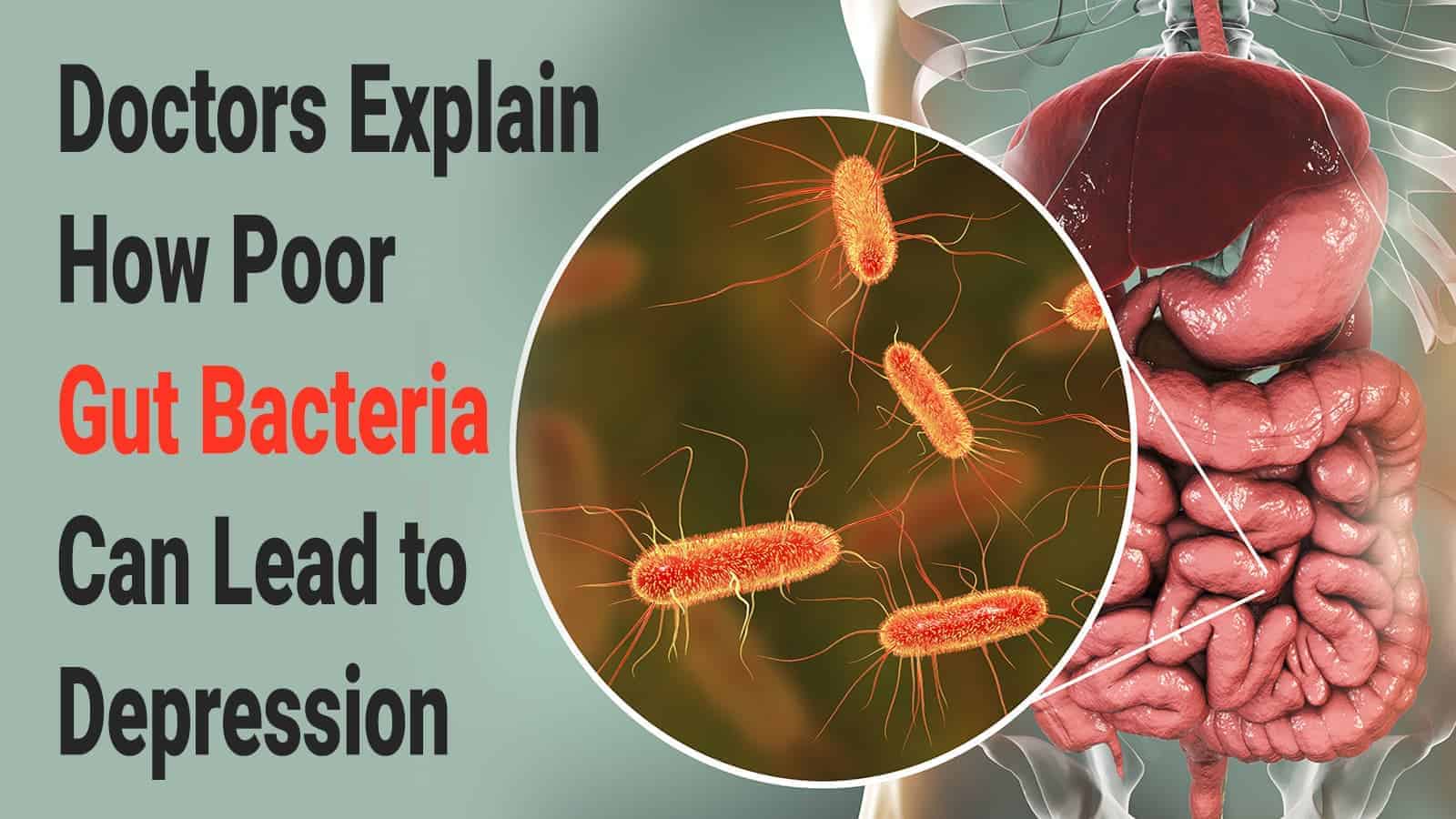 www.powerofpositivity.com
gut depression bacteria poor explain doctors lead
Can Gut Bacteria Cause Depression? – Dr. Diana Joy Ostroff
www.naturalhealinghawaii.com
bacteria
What's The Link Between Gut Bacteria And Depression? – RankRed
www.rankred.com
gut bacteria depression rankred
People With Depression Are Less Likely To Have Certain Gut Bacteria
www.newscientist.com
bacteria depression certain guts newscientist
CLB 017: Are Your Gut Bacteria Causing Anxiety And Depression? | Calm
calmlivingblueprint.com
gut leaky period men doctor stomach describe diagnose disease feels pain ca ache fitlife tv
New Evidence Links Specific Gut Bacteria To Depression
newatlas.com
gut evidence strongly examining
Gut Bacteria Found To Cause Depression And Anxiety In Obesity
www.belmarrahealth.com
gut depression bacteria obesity anxiety cause found
People with depression are less likely to have certain gut bacteria. New evidence links specific gut bacteria to depression. Gut depression bacteria poor explain doctors lead