June is Men's Health Awareness Month, and it's important that we all take a moment to acknowledge how essential taking care of our physical and mental health is. As men, it's often assumed that we don't need to worry about our health as much as women do, but this is far from the truth. We need to make sure that we are taking care of ourselves in all aspects of our lives.
To start off, let's talk about physical health. Many men are guilty of neglecting their health when it comes to exercise and diet. We may think that we can get away with eating junk food and drinking alcohol regularly, but these habits can have a significant impact on our health in the long run. Additionally, doctors recommend that we get at least 150 minutes of moderate aerobic exercise or 75 minutes of vigorous exercise per week. This can be as simple as going for a brisk walk, playing sports, or weightlifting.
Exercise and eating right are just the beginning, though. It's important to make regular appointments with your doctor to stay on top of any health issues. Many men shy away from this, but getting check-ups, monitoring your blood pressure, and managing any medical issues that arise are all essential to maintaining good health.
Next, let's talk about mental health. While physical health is often emphasized when it comes to men's health, mental health is just as important. In fact, men are often less likely to seek help for mental health issues, which can lead to serious consequences for our overall wellbeing.
One common mental health issue for men is stress. We often juggle work, family, and social responsibilities, and it can be easy to become overwhelmed. However, it's important to identify the source of our stress and find ways to manage it. This can include techniques like meditating, practicing mindfulness, or talking to a mental health professional.
Another issue that men often face is depression. Depression can come with many symptoms, such as difficulty sleeping, decreased appetite, and feelings of hopelessness. If you're experiencing any of these symptoms, it's important to seek help from a mental health professional or talk to your doctor, as depression can affect your overall health and impact other areas of your life.
When it comes to taking care of our physical and mental health, sometimes it's the little things that make the biggest difference. Here are some tips and ideas for staying healthy:
– Get a good night's sleep. Sleep is crucial for our overall health, and getting enough of it can help us manage stress and improve our physical performance.
– Drink plenty of water. Staying hydrated is essential for our physical health, as it helps regulate body temperature and helps our bodies perform their best.
– Take regular breaks throughout the day to move around and stretch. This can help prevent stiffness and soreness, and can also help boost our mood and energy levels.
– Practice good hygiene, such as washing your hands regularly and covering your mouth when sneezing or coughing. This can help prevent the spread of illness and keep you feeling your best.
– Find healthy ways to cope with stress, such as deep breathing exercises or going for a walk outside. These activities can help lower stress levels and improve your overall mood.
Finally, it's important to remember that there's no one-size-fits-all approach to health and wellness. You know your body and mind better than anyone else, so it's important to pay attention to what works best for you. Whether it's taking up a new hobby, trying a new exercise routine, or talking to a mental health professional, there are countless ways to prioritize your health and wellbeing.
In conclusion, as men, it's important that we take our health and wellbeing seriously. It's not just about looking good or feeling good, but about ensuring that we live long, healthy, and happy lives. Remember to take care of your physical health, seek help when needed for mental health issues, and find what works best for you to stay healthy and happy.
If you are searching about Men's Health Week: 15th – 21st June 2020 – Grief Probate Journey you've came to the right web. We have 7 Images about Men's Health Week: 15th – 21st June 2020 – Grief Probate Journey like Men's Mental Health Awareness Month | McComb Students, Men's Mental Health Month | Mental Perspective and also Men's Health Week: 15th – 21st June 2020 – Grief Probate Journey. Here you go:
Men's Health Week: 15th – 21st June 2020 – Grief Probate Journey
griefprobatejourney.com
Men's Mental Health Awareness Month | McComb Students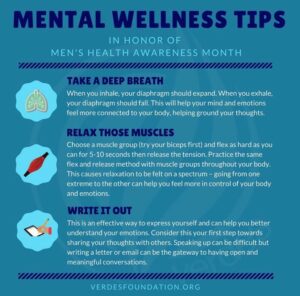 www.mccombstudents.com
month willing
May Is Mental Health Awareness Month | Deerfield Beach Housing Authority
dbhaonline.org
illness behavioral stigma favpng matters siouxland pds bipolar gesundheit mentale goals reduce eupen 1949 observed seto lawyer
Men's Health Week | Dr Romana Bowd Psychology
www.romanabowdpsychology.com.au
suicides
Men's Health Month: Preventive Care Matters > Wright-Patterson AFB
www.wpafb.af.mil
health month men preventive care mens june matters hi res details
June Is Men's Health Awareness Month! – Pfp
familysecurityplan.com
Men's Mental Health Month | Mental Perspective
mehep4u2.wordpress.com
mental health men month mens infographic june ca movember talk giveaway illness time marie being
Illness behavioral stigma favpng matters siouxland pds bipolar gesundheit mentale goals reduce eupen 1949 observed seto lawyer. Men's mental health month. Men's mental health awareness month